The ECOSYS P6021cdn desktop network color printer meets daily output needs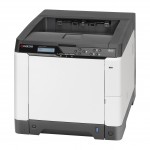 while respecting your bottom line. Offering a high degree of functionality, it enables you to print attention-grabbing reports, proposals and more with a burst of business color, at 23 pages per minute. Its print from USB allows onthe- go printing, while wireless printing capabilities help keep you productive without tying you to the device. Combining exceptional quality with high reliability and long life consumables, the ECOSYS P6021cdn is a smart solution that makes good business sense.
28/28 PPM (Black/Color) Desktop Color Printer
The ECOSYS P6030cdn provides busy individuals and workgroups with a budget friendly desktop network color printing solution that powers routine office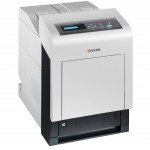 document production. High versatility enables a wide assortment of output types, while business color adds punch to charts and graphics. Printing speeds up to 32 pages per minute, plus wireless printing capabilities make it the ideal solution for busy individuals, workgroups, and mobile users. Combined with long life consumables, the ECOSYS P6030cdn reduces waste, which both helps to manage operating expenses and increase your bottom line.
37/37 PPM (Black/Color) Desktop Color Printer
Desktop Color Printer