The Kyocera ECOSYS FS-6525MFP provides the superior functionality and brilliant color your customers need in a conveniently small device design.
Kyocera's advanced, award-winning ECOSYS technology is well regar
ded as a cost-effective and highly reliable solution. The Kyocera FS-6525MFP MFP assures that your most critical document imaging demands are satisfied budget friendly and virtually worry-free. This device has been designed for advanced reliability while reducing the environmental impact and cutting printing costs. It is a reliable partner for workgroups that require a high level of functionality, ease-of-use and represents the smart choice for eco-friendly, cost-conscious offices.
The capabilities of the FS-6525MFP can be enhanced with unique and scalable business applications, powered by HyPAS –Kyocera's powerful software development platform. These applications, developed by Kyocera or by our third-party solution partners, allow your business to further optimize your ECOSYS MFPs' "out-of-the-box" performance. Kyocera applications transform your multifunctional printer into a powerful resource that suits your existing document imaging and workflow needs today, as well as delivers the flexibility you need for tomorrow.
25 copier per minute Black & White MFP Copier
30 copies per minute Black & White MFP Copier
The Copystar CS 3501i helps to cost-effectively maximize productivity, with flexible configuratio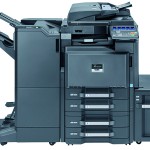 ns, enhanced functionality and advanced finishing options to meet even the most robust document imaging demands. Powerful and scalable integrated business applications simplify document workflow. And, when combined with award-winning ultra-reliability and unique long-life technology, ensure superior performance and maximum efficiency. For document imaging innovation and quality you can rely on, the CS 3501i delivers.
35 copies per minute Black & White MFP Copier
45 copies per minute Black & White MFP Copier
55 copies per minute
Black & White MFP Copier